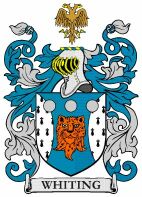 gen 1 William Whiting Born Hartford Connecticut 16 Dec 1758 d.22 Mar 1849 married Abigail Flower
gen 2 Nathan Whiting Born Hartford Connecticut Married Rhoda Towle
gen 3 Nathan Whiting Born Warsaw, Wyoming County, New York 1827 Married Harriet
gen 4 Anson Lionel Whiting Born Bangor, Van Buren County Michigan in 1860
gen 5 Clarence David Whiting Born 1883 Married Mary Anson (Wilson)
gen 6 Anson Vernon Whiting Born 1910 Married Virginia Loomis
Family Group Sheet
According to CD159, of the New England Families vol. 2-the surname Whiting is derived from a name of a place and has been in use in England since the earliest adaptation of surnames. Roger Witen is mentioned in the Domesday Book (1085); Alan de Witting is mentioned on the rolls of Yorkshire in 1119 and 1150; and Hugo Witeing was of Dorsetshire in 1202. Variations of the surname change with Everard de Witting of Yorkshire in 1195; Giffardo Witeng, of Somersetshire, in 1214; Willus de Witon, of Yorkshire, 1216; Thomas de Whitene of Nottinghamshire, in 1276; and Wills Whitingh of Oxfordshire, in 1300.
Generation 1 William Whiting born Decamber 16 1758 in Hartford Conneticut. William is a Revolutionary War vertan.
Anson Lionel Whiting was born in Bangor Michigan in 1860.
Bangor is located 125 miles East of Chicago and 150 miles West of Detroit. Located on M-43, just 10 miles North of I-94, Bangor is 25 miles West of Kalamazoo and 10 miles Est. of I-196
Bangor has an approximate Population of 2,200
How the City Became Known as Bangor.....
The city of Bangor, despite its small size, has quite a colorful history. Like most cities, the first settlers were pioneers. These men cleared the thickly wooded land, and constructed log cabins. As time went on, many cleared the land enough to be farmed. Through their efforts the Village of Bangor came into existence.
In the spring of 1835, a young man by the name of Charles V. Cross blazed a trail from Paw Paw to South Haven. During the winter of 1837, Charles Cross built the first cabin, in what is now the City of Bangor. In March of that year, the State Legislature organized the Townships of Bangor, Columbia, Deerfield, Geneva and South Haven. In April the first election was held in Cross's Home. Eleven votes were cast, seven officials were elected and Mr. Cross was elected Town Clerk.
During the next two years more settlers moved into the Bangor area. The first tax was collected in 1839, consisting of seven taxpayers, In the following years the number of settlers in Bangor grew. In 1845 there were twenty-three taxpayers and in 1856 there were one-hundred taxpayers. From here on out, the rest is history....
Anson L. Whiting and Isabell ( Bailey) had 5 children, Clarence David Whiting born 1883, Carrie born 2/20/1886, Henretta born 1887, Mark born 7/16/1888 and George born 1892.
(Pending more investigation)
Whitng Cousins :
WHITING, SAMUEL (?-1862?). Samuel Whiting, newspaper publisher, a native of Hartford, Connecticut, came to Texas in 1825. He settled at Liberty and represented that district at the Convention of 1833.qv He was secretary of the Consultationqv at San Felipe in 1835 and on November 29, 1835, was granted six blank commissions or letters of marque to outfit privateers at New Orleans. During the summer and fall of 1836 he furnished supplies for the Texas army and a garrison holding prisoners at Liberty. He published the Houston National Intelligencer in 1838 and 1839, at the same time that he was printing the laws and journals of the Third Congress. On January 18, 1838, he married Mrs. Elizabeth Menson (Monson), who died two years later. In 1839 he was an unsuccessful candidate for mayor of Houston. He set up a printing press at Austin on which he printed the first issue of the Austin City Gazetteqv on October 30, 1839. He published the Austin Daily Bulletinqv from November 1841 through January 1842 to give a daily synopsis of the proceedings of Congress. Whiting supported Sam Houstonqv until the time of the Archive War,qv when he turned to the opposition. The Gazette suspended publication in August 1842, but Whiting remained in Austin until about December. He left Texas for a trip East in 1843 and was back in Texas in 1849 en route to California. He is reported by various sources to have died in California in the middle 1850s and to have died in the state of New York in 1862.
BIBLIOGRAPHY: Hugh Best, Debrett's Texas Peerage (New York: Coward-McCann, 1983). Frank Brown, Annals of Travis County and the City of Austin (MS, Frank Brown Papers, Barker Texas History Center, University of Texas at Austin). Joe B. Frantz, Newspapers of the Republic of Texas (M.A. thesis, University of Texas, 1940). Charles Adams Gulick, Jr., Harriet Smither, et al., eds., The Papers of Mirabeau Buonaparte Lamar (6 vols., Austin: Texas State Library, 1920-27; rpt., Austin: Pemberton Press, 1968). Texas House of Representatives, Biographical Directory of the Texan Conventions and Congresses, 1832-1845 (Austin: Book Exchange, 1941). Vertical Files, Barker Texas History Center, University of Texas at Austin.
A brief biography of Joseph Whiting appears in the book, "The Early History of Southampton, L.I., New York," in which it states, " Joseph, the third son [of Rev. Samuel Whiting], was born April 6, 1641, graduated at Harvard in 1661, and assisted his father several years and was installed as his successor in 1679. He was twice married -- first to Sarah, daughter of Hon. Thomas Danforth, deputy governor of Massachusetts, and president of Maine, and again to Rebecca, who died April 21, 1726." Rev. Joseph Whiting left his parish in Lynn, Massachusetts to settle in Southampton, Suffolk County, Long Island, New York in 1683, where he was th parish pastor until his death in 1723.

The marriage between Joseph Whiting and Rebecca Bishop is cited in the book, "The Early Settlement of Stamford, Connecticut 1641-1700," which has a biography of preacher John Bishop. It states, "An event of considerable excitement and rejoicing for the village took place in 1684. This was the marriage of John Bishop's daughter Rebecca. The bridegroom was the Reverend Joseph Whiting of Long Island, a man twenty-one years her senior whose first wife had died."

Some additional information on the family of Joseph Whiting comes from his will, as transcribed in the book, "New York City Wills, 1708-1728," page 326: "In the name of God, Amen, April 27, 1717. I, JOSEPH WHITING, Minister of the Gospel, of ye town of Southampton, in the County of Suffolk, being sick in body, "Considering the age God hath lengthened out my days into." I leave to my eldest son, John Whiting, all my library of books, excepting a few small books I shall hereafter give. I leave to my eldest daughter, Sarah Sparhawk, 5 [shillings]. I leave to my second son, Samuel, 6 [shillings]. To my third son, Joseph, a certain tract or parcel of land in the town of Stamford, in the Colony of Connecticutt, being 12 acres, lying on the east side of Pine Brook, Bounded west by the Brook, east and north by Town lands, and south by highway, as it is recorded in Stamford. Also a parcel of land in Stamford, lying above the Great Ox Ridge, so called, being 18 acres, bounded as by deed of sale I received from John Bishop of Stamford, October 11, 1714. I also leave to my son Joseph 20 shillings. I leave to my fourth son, Benjamin, 20 shillings, and to my youngest son, Ebenezer, 20 [shillings] when of age. I leave to my daughters Rebecca Howell and Hannah Ball 5 [shillings] each, and to my two youngest daughters, Elizabeth and Dorothy, 20 [shillings] each when 18 years of age. Lastly, I leave and bequeath to my beloved wife, Rebecca, whom I make sole executor, my now dwelling house and buildings and land adjoining in the Town Plot of Southampton, and all the rest of my estate, both real and personal, for the term and time of 2,000 years after my decease, with power to sell as she pleaseth to pay all my just debts and legacies.

"Witnesses, Daniel Foster, Christopher Foster, Thomas Reed. Proved, June 8, 1726, and the executrix being also dead, and the eldest sons having relinquished their right, Letters of Administration are granted to the son John Whiting."


WHITING AND SMITH EXPEDITION. After the Mexican Warqv the United States government initiated an intensive program to, among other things, survey its southwestern boundary. Texas, with its vast size, diversified geographic topography, proximity to northern Mexico, and strategic position on the trade routes to California, gave it a priority for such a survey. In 1848 the first organized effort, supported by the citizens of San Antonio, sent Col. John C. Haysqv of the Texas Rangersqv to find a practical wagon road to El Paso. Hays and his Indian guides left San Antonio on August 27. They met thirty-five Texas Rangers under the command of Capt. Samuel Highsmith.qv After a perilous journey during which the guide lost his way and the party nearly starved, they reached Presidio del Norte,qv a Mexican village at the junction of the Río Conchos and the Rio Grande. They returned to San Antonio after an absence of 107 days. Hays reported that a practical wagon route to Presidio del Norte existed during all seasons of the year. In December 1848 the United States secretary of war ordered Maj. Gen. William J. Worthqv to explore the country along the left bank of the Rio Grande to see if there was a suitable route between San Antonio and Santa Fe. With the report of Hays before him Gen. Worth directed Lt. William H. C. Whitingqv and Lt. William F. Smith, both Army engineers, to investigate the trail to Presidio del Norte to determine if there was such a practical route between El Paso and the Gulf of Mexico.
The expedition left San Antonio on February 12, 1849, with Whiting in command of a force of fifteen men. The escort of nine men included experienced woodsmen and hunters well versed in frontier life. Whiting, only twenty-four years old, had no previous frontier or Indian experience. His guide was Richard A. Howard,qv who had been with Hays on the previous exploration. Leaving Fredericksberg on February 21, they proceeded northwest across the Llano River and then southwest across the Pecos to the Rio Grande. On March 24, after a narrow escape from an encounter with Apaches west of the Pecos, they arrived at Fort Leaton, near Presidio del Norte. After resting at Fort Leaton they resumed their journey on March 29, traveling up the east bank of the Rio Grande to their destination, Ponce's Ranch, opposite El Paso del Norte. They left the ranch on April 19 by a different route and went down the Rio Grande for 120 miles, then turned east to the Pecos, which they followed southeast for sixty miles. They crossed over to the Devils River, then to Las Moras Creek, the Nueces River, and the Rio Seco. They arrived in San Antonio, in two parties, on March 21 and 24. Whiting reported that his return route could be made into a practical wagon road for military and commercial purposes between San Antonio and El Paso. The route pioneered by Whiting and Smith was extensively used in later years. A wagon road was constructed by engineers in the summer of 1849 and became known as the lower or southern road. It was used by the United States army, mail stages, Texas cattle drovers, and settlers migrating to New Mexico, Arizona, and California. It is also followed by part of the Southern Pacific Railroad Company's tracks from San Antonio to El Paso.
BIBLIOGRAPHY: Philip St. George Cooke et al., Exploring Southwestern Trails, 1846-1854, ed. Ralph P. Bieber and Averam P. Bender (Glendale, California: Clark, 1938; rpt., Philadelphia: Porcupine, 1974).
Art Leatherwood