THOMPSON
Hans Thompson 1852-1932 Lina (Lena) Bolette Hansen 1865-1941
Ruth (Thompson) Nelson 18 Mar 1903 - 30 Jul 1997
Hans Thompson came to America in 1871 at the age of 19. Lina Hanson his future wife came to America in 1887 at the age of 22 and were married that same year.
Hans could read and write English and became a citizen in 1871 the same year he immigrated. Early records do not show when or if Lina was naturalized. When he first came to Michigan he worked in the Lumber camps of Muskeegon until he saved enough money to buy his farm in Amble.
Remembrances of the Thompsons


Hans A. Thompson came to America in 1871 at age 19 he was in America for many years before Lena (Lina) Hanson came over from Norway in 1887 at age 22. His name before being "naturalized" was Hans A. THOMASEN. Hans was 13 years older than Lena. They were married almost immediately after Lina Hanson arrived which could mean it was an arranged marriage or they knew each other before Hans left Norway. The Thompsons had a farm at Amble in Montcalm County Michigan. Down the road from the farm was Hansen's General Store. It is not yet known if these Hansens are a relation of Lena or not.
Lina Bollete Hansen was born in Sorum, Akershus, Norway and Christened October 8th 1865. Her parents were Hans Larsen and Anne Knudsdr.


The Thompson sisters Rebecca, Selma, Hazel and Ruth were attending the Seminary in Red Wing Minnesota in the early 1920's.

Rebecca Thompson worked for a wayward home for kids in the Detroit area. Hazel was factory worker. Selma may have worked at the same factory. Mabel never married but was a live in house keeper for Fred Hanson.

Nora Thompson married Oscar Holmberg and was a house wife and mom.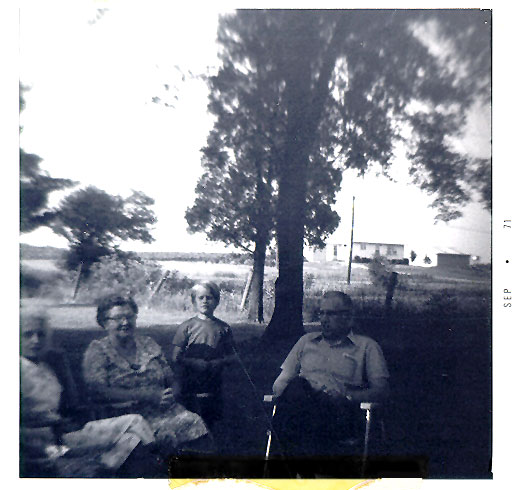 Thompson Family reunion in 1971



The Thompson farm was well known in the area. The Thompson farm is on the 1897 plat map. From the plat map it looks as though the family farm was located on a street off of Amble Road. It also appears he owned 80 acres.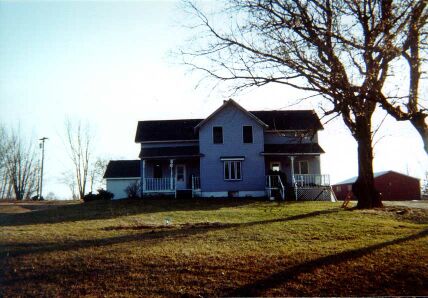 The Old Thompson Farm House Still Standing

The index says the following;
"Thompson H. A. Farming and Stock. Section 21 Township Winfield, P.O. Amble, Lived in the community since 1887"

In the 1917 Greenville rural directory the following is listed:

Hans and Lina Thompson
9 children (at the time)
farmer
owns farm
120 acres
4 horses
14 cattle
rural route 2 Howard City, Winfield township
B-Ind. Tel 64

Alfred Thompson was the oldest and probably took over the farm after Hans died in 1932.
The farm is still standing and is a working farm it is however not still in the family.

Otto and Thomas Thompson both served in World War I.
George Thompson & Caroline Thompson's kids were: Carol, Jack, Linda, Marie, Pete and Sue. Carol died on New Year's Day 1970 and George died in 1981. Caroline lives in Comstock Park, Mi., and so do Marie & her husband Ted, and Pete & his wife Marcy. Linda & her husband Kurt live in Kent City, Mi. Sue & her husband Dale live in Bowling Green, Ky., and Jack & his wife Annette live in Copenhagen, Denmark.

Death Certificate information:

Montcalm county
Hans A Thompson
record number 4
book 1932
Hans A. Thompson
DOD Sept. 5 1932
Male
White
Married
80 years
3 months
27 days
Cause of Death Cerebral (rest unreadable)
Place of death Montcalm county
occupation Farmer
Place of birth Norway
Father unknown born Norway Mother unknown born Norway

Lena Thompson (Lina Boletta Hansen)
record number 134
book 1941
DOD May 1 1941
female
White
Widowed
75 years 7 months 19 days
Place of Death Winfield Township
Cause of Death Coronary occlusion
Duration 6 hours
Usual occupation housewife
Date of Birth Sept. 12, 1865
Place of Birth Norway
Husband Hans Thompson
Father unknown born Norway
Mother unknown born Norway
Informant George Thompson, Howard City
Buried Amble Cemetery, Amble Michigan May 4 1941
Dr. Lee Kelsey MD
Filed May 10, 1941
Funeral Director Youngman Brothers, Lakeview, MI



Home Thompson Grave Stones Thompson Obits Thompson Probate info