Our Loomis Line
Noah D. Loomis and Mary Mackey
Noah D. Loomis b 2 Mar 1832; married 20 June 1857 Mary Mackey; he died in Rochester Indiana 21 Sept 1860
They had one child Had 1 child: William Paul Mackey Loomis, b June 1858
(Noah Loomis #7295 Listed in the book "The Loomis families of America")
Mary Mackey's Parents were William Mackey, Rochester Indiana and Rachel McClung(?).
HORACE C. MACKEY, of Rochester, is a son of one of Fulton County's first settlers. William Mackey, who lived for years just on the outskirts of Rochester, and was a prominent character, was born in Virginia, near Natural Bridge, Rockbridge County, being a descendant of one of the first white families to settle that county. His birth occurred about eight-five years ago. In 1835 he rode on horseback from there to Fulton County and entered land in New Castle township. He did not settle on it, but returned to Virginia and remained five years longer. He cast his lot with this state in 1840 and took up his residence in Henry County. In 1849 he came to Fulton and bought a seventy-six acre tract on the Michigan road of Riley Spencer. He was a prosperous farmer and a popular citizen. He was a strong union man and furnished two sons for the Union army. He married at Natural Bridge, Va., Rachel, a daughter of Joseph McClung. Rachel died in 1852, aged forty-one, leaving seven children. Joseph, deceased, was a prominent citizen of Wabash, Ind. Recruited One Hundred and First Indiana volunteers and was offered major's command, but declined to serve. Lizzie, deceased; Mrs. Mary Loomis, John C., died at Louisville, Ky., in Twenty-ninth Indiana regiment; Hester, wife of James Wilder; Horace C., born April 6, 1843; William, died 1882. Horace C. Mackey graduated from the Rochester public schools at thirteen years of age. Aug. 9, 1862, he enlisted in Company D, Eighty-seventh Indiana volunteers, Capt. Ward's and later Capt. Hughes' and lastly Capt. Elam's company. The regiment was mustered into service at Indianapolis and was ordered to Louisville, Ky., to aid in checking Gen. Bragg's army. It struck the enemy at Perryville and followed him up to Triune, Tenn.; was in the Chickamauga fight; went with Sherman to the sea and on their return thought the Carolinas to attend the grand review at Washington. During all his service Mr. Mackey was never absent from his regiment. He was mustered out of the service at Indianapolis July 23, 1865, sergeant of his company. On returning to civil pursuits Mr. Mackey engaged in farming, which of late years has given place to a miscellaneous and diversified vacation. Mr. Mackey sold his farm, the old Mackey homestead, to Dr. W.S. Shafer, in 1895, to be devoted to the use of the Rochester Normal university and on this tract the college building has been erected. To this enterprise Mr. Mackey lent not only his sympathy but of his substance and while the public are not acquainted with the extent of his donation the history of the consummation of the deal will reveal his connection with it. Mr. Mackey is the owner of several well improved properties in Rochester and laid out Mackey's addition to Rochester. In politics he is a republican and was once elected assessor, but a change in the law prevented his taking the office. April 6, 1868, Mr. Mackey married Lucy Dunlap, a daughter of James Dunlap, from Pennsylvania, who died here in 1855, one year after his advent to the state. He married Clara Stoughton, a cousin of Daniel Voorhes. Their children are: Rev. C.H. Dunlap, Philadelphia, Pa.; Alpheus, St. Louis, Mo.; Julia, wife of Michael Orr, Plymouth; Dr. W., Sedalia, Mo.; Lucy, and Mary, wife of Richard Van Deen, of this county. Mr. Mackey's children are: George M., twenty-six; Orrin S., twenty-two; Mary, twenty; Lottie, sixteen, and Colonel Gleason, six. The family are of the Presbyterian faith.
"Pictorial History of America, The Fulton County Edition" by Elia Peattie - published in 1896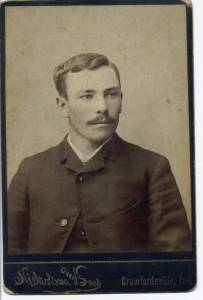 William Paul Mackey Loomis
William Paul Mackey Loomis Born June 1858 in Rochester, Indiana and died November 20, 1934 in Norman Township, Wellston, Michigan is Buried in Wellston Cemetery
(William Paul Mackey Loomis #10881 Listed in the book "The Loomis families of America")
**** He is listed as William "Paul" Mackey Loomis in some sources and just William Mackey Loomis in most others. I have not been able to obtain a birth certificate as of this time.,
WILLIAM MACKEY LOOMIS, one of the progressive and successful business men of Rochester, was born in Fulton County June 29, 1858, and is a son of Noah and Mary (Mackey) Loomis. The father was born in Massachusetts, and was a son of Norman Loomis, who was descended from an old Massachusetts family, whose first representatives in America were among the Mayflower emigrants. Norman Loomis and family came to Fulton County in an early day, and here the parents of our subject were married. Mary Mackey Loomis, the mother of our subject, was born in Indiana. She is a daughter of William Mackey, who came from the Old Dominion state to Fulton County at a very early date in the history of the county. Noah Loomis, the father of William W., died in 1860, and his widow and only child then made their home with our subject's maternal grandfather till his death, which occurred in 1876. William worked on the grandfather's farm and attended the common schools. He entered Wabash college in 1879, graduating in the class of 1884. He began farming immediately after his return from school, and continued the same up to 1894, when he became a merchant. He opened a dry goods store and has since conducted business in general merchandising. He has been secretary of the Fulton County Agricultural society, and his efforts were fruitful in rendering successful the fairs held by the society. In 1888 Mr. Loomis and Ella May Shepard were united in marriage. Unto the union have been born two sons and two daughters, viz.: Zethie, Shepard, Dewey and Elta. Mr. Loomis is a member of the order of Knights of Pythias, and is a republican in politics.
"Pictorial History of America, The Fulton County Edition" by Elia Peattie - published in 1896 (Thelma Loomis was born after this printing)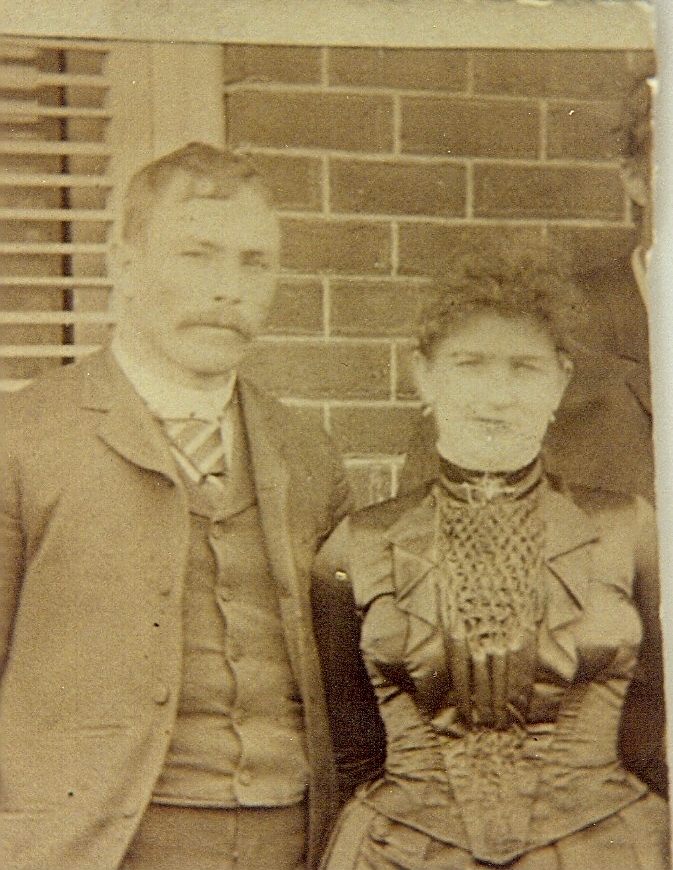 William Loomis and Ella May Shepard Loomis
William M. Loomis married Ella May Shepard (Hubbard) in 1886
William M. Loomis Worked for many years as a contractor building Railroads and Highways, primarily for the Wabash Railroad in Indiana. He also worked for US Steal Corporation and is credited for laying out the streets in Gary Indiana when that area was just swamp land and sand dunes.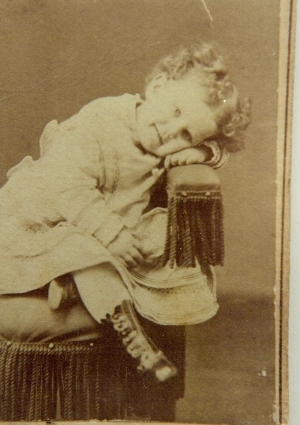 Ella May Shepard - Hubbard
Ella May Shepard was born on Feb. 26, 1870 in Placerville, Ca. Her parents were Mary E. Johnson and Levi Shepard, b. Mar 16, 1825 in NY and died Jan 26, 1873 in Placerville, Ca. His gold mine caved in on him. Later, Mary E. Johnson married Ransom Hubbard. Daughter Ella May went by the last name of Hubbard also Until (and in some cases after) marring William M. Loomis.
Ella May (Shepard ) - Hubbard - Loomis, married Wesley H. Kanagy in June of 1914 in San Diego, CA. He was 50 and she was 43. They are both listed in the 1920 and 1930 Census with Zethia living with them. Zethia ended up in Patton State Hospital in San Bernardino, Ca.
William M. Loomis sold the Loomis family home (described as a mansion by Alta Leta Loomis) and all the possessions (all furnishings were purchased for them originally by Ella May's parents the Hubbards (also according to Alta Leta Loomis in a 1977 Letter to her daughter) William then moved to Wellston Michigan in 1912. The reason for his moving to this particular place is not yet known. The Marriage was failing for some time. Ella May and the kids moved in with the Hubbards where they were raised in New Carlisle Indiana, they went to school in South Bend Indiana.
William's son Dewey Loomis and his young family moved to Wellston Michigan in 1928. Dewey was a very popular Trap Drummer in San Diego. When Talkie" Movies came out with sound .. the silent film musicians that used to play live music along with the film were suddenly out of work.

Children:

Zethia Loomis - Born Sep. 20, 1889 in Rochester, Indiana - Fulton County Died Jan 22 1959 at Patton State Hospital in San Bernardino, CA - Never married.
(**per her death certificate) Zethia was in the mental hospital for 18 years, 11 months 10 days and died at 70 yrs.

Sheapard P. Loomis - Born March 14, 1891 in Rochester, Indiana - Fulton County Died Dec. 23, 1909 (**per bible records)
Dewey W. Loomis Born August 9 1892 in Rochester, Indiana - Fulton County Died September 24,1986 age 94 at 49689 Wellston, Manistee, MI He married 1) Minnie Gertrude Marlin 2) Anna _______

Alta Leta Loomis Born February 1, 1894 in Rochester, Indiana - Fulton County Died August 18, 1983 in San Diego, CA. (**per bible records) She married Feb 26, 1913 - Lawrence Vivian Hoskins Born October 7, 1888 Died January 23,1946

Thelma Lavon Loomis Born January 5, 1897 in Rochester, Indiana - Fulton County. Died Aug 19, 1960 in San Diego, CA. Married to Emmitt E. Tanner Oct. 2, 1920 but Emmitt died in a plane crash into San Francisco Bay and the body was not recovered...so I hear. Thelma is buried in San Diego - probably Greenwood in National City - that's where most of the family is.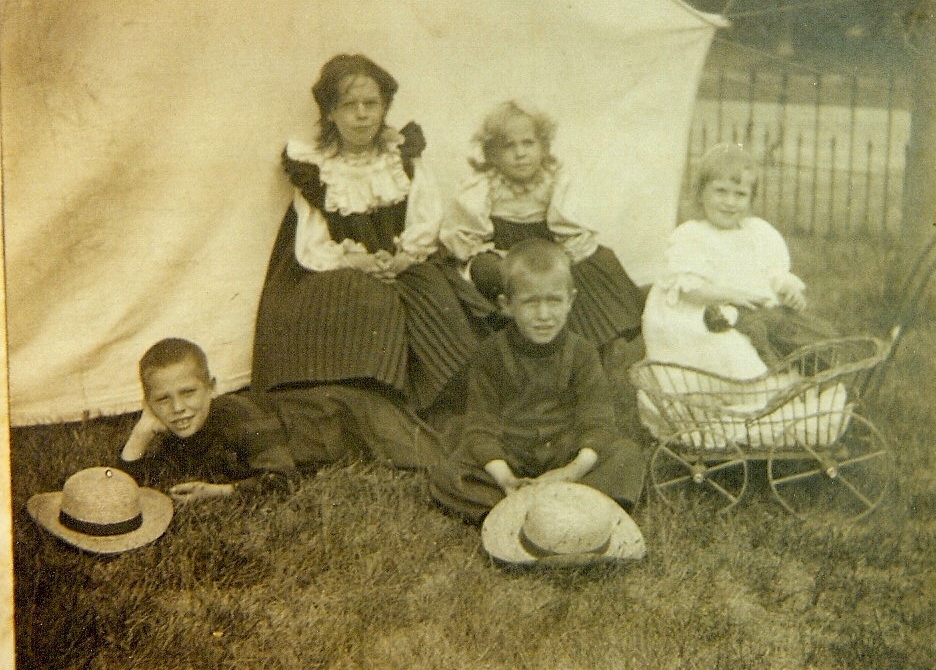 Sheapard, Zeitha , Dewey , Alta Leta and Thelma Loomis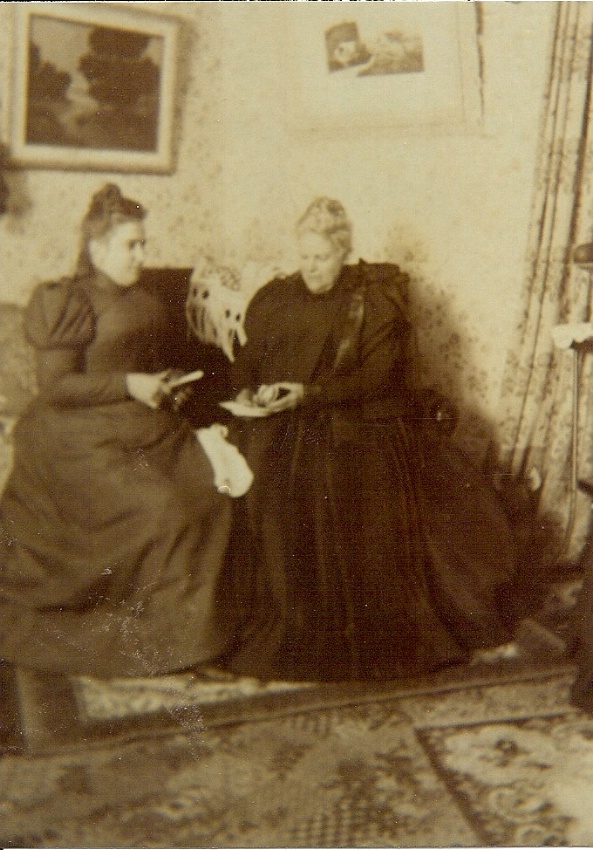 Ella May Shepard with Mother Mary E. Johnson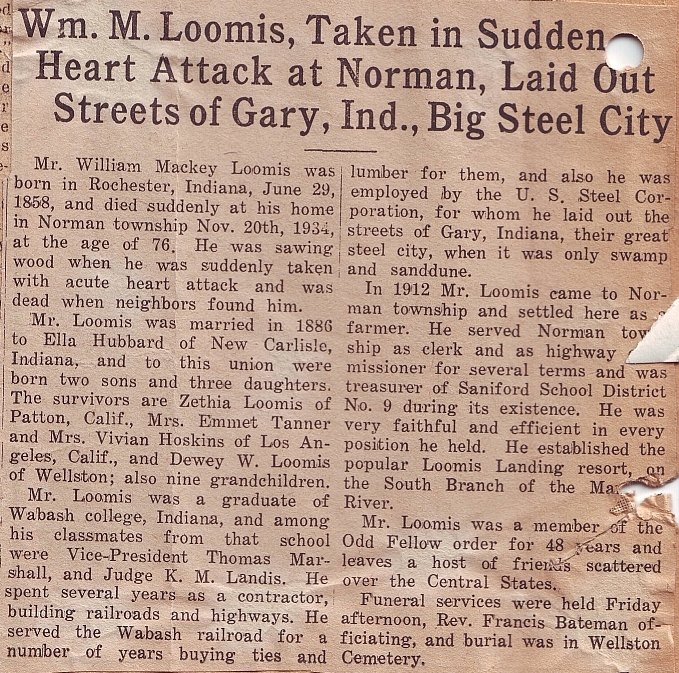 William Mackey Loomis Obituary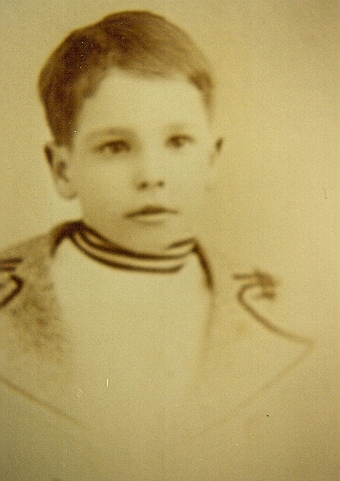 Dewey W. Loomis
**Thank you to Laurie Hoffman, Great Grand daughter of Alta Leta Loomis Hoskins for information and photos contributed to these pages.