Loomis Recollections from Clarence Gillispie Grand Son
of Dewey W. Loomis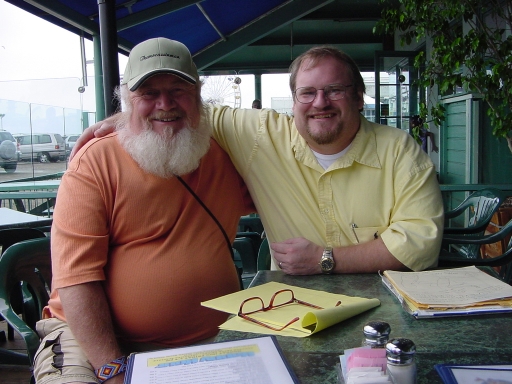 Clarence Gillispie and Scott Nelson in 2003 Santa Monica California
Clarence Gillispie Recalls:  I remember excitement in our house when we heard Grandma and Grandpa Dewey were coming to our house. I was very young because I still sat on laps. They both were a bit distant and never really ever held me. I remember getting into trouble for trying to climb on them like my other Grandparents. My mother Helen would hold me while they visited. They would usually stop by to and from Lansing. We kept their seven cats for them while they were gone. They would pick up and drop off the cats twice a year.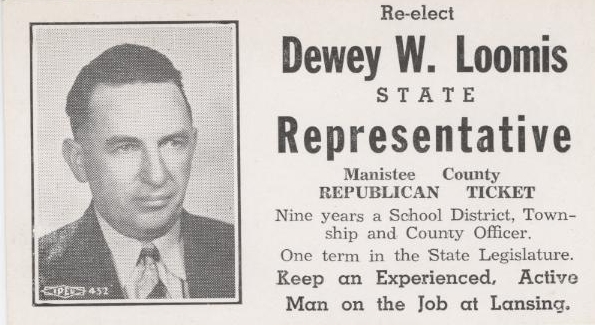 I am not sure if he was a Michigan State Legislator then or not but after he lost his office he worked in Lansing for years in the State House. The Republicans down there took care of him by finding him a good job. I heard he mainly got voted out of office because he introduced a bill in the State Legislature to tax property to fund the Michigan one room schools. I heard he also promoted the first Michigan Deer Season. No Deer Season was more popular among Michigan hunters because you could kill one, two, or three deer a year and can them for for winter's meat.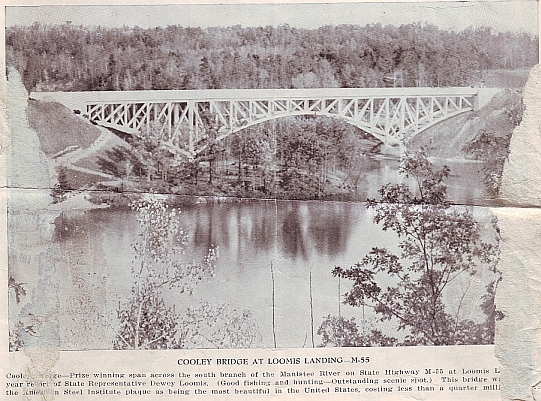 I also heard that Grandpa Dewey was a bit unpopular because he was responsible for getting the Cooley Bridge built near his beloved Loomis Landing which his Father William, or Bill Loomis started on the Pine River. [Loomis Landing officially came into being September 25, 1928 when Dewey Loomis signed a lease with Consumers Power for 25 acres along the pine river for a boat landing] That Bridge was a show place in itself with a nice landscaped park all under it. It certainly made Loomis Landing easy to locate.

As a little kid I remembered that they both were nicely dressed. Grandma was always dressed to the T's. Grandpa was usually in a nice expensive pin striped suit with a "Northern Michigan Hunting Soo Wool Mackinaw coat" as a over coat. He wore a cap like a old style golf cap. People in those days dressed like the well known popular Gangsters Al Capone or Grandma's coat was a white "Hudson Bay Blanket coat" with the multi-striped bottom. She always had on nice dresses with plenty of jewelry. She was quite a knockout!
I was told she was in show business too when Grandpa met her, I also heard she was a Flapper what ever that meant.
He and she carried themselves just as if he was still in office. He even painted his pickup truck doors with big letters;
"DEWEY W. LOOMIS FORMER STATE REPRESENTATIVE
LOOMIS LANDING WELLSTON MICHIGAN"

He kept his Dance Band going and played for local weddings and gatherings for years. I heard his band is what he used to get to be well known throughout Northern Michigan.

I believe it was called the Hillbilly Band. Grandma and Grandpa were far from Hillbilly's though!!

They were Urbanized far too much from their California experience. I was named after both Grandpa's. Clarence William Gillispie.
Grandpa Dewey Loomis was from Indiana originally and Grandpa Gillispie was from Southern Indiana via Paint Lick Kentucky.

More on the Dewey Loomis Dance Band Later


Thank you to Clarence W. Gillispie, Grand son of Dewey W. Loomis for information and photos contributed to these pages.
*** More to come ****